Here at Southern Wanderings we'll sometimes cover places that are outside of the Southeastern United States. Ghost towns are one of those subjects and whenever we can find a link to a cool article or photos of such places we'll give it to you here.
Over at
Matador Network
they have a great photo trip through some Nevada ghost towns. Nevada was a state that had thousands of mines and many of these mines had small towns that sprang up (almost overnight) to support the mines. Once these mines stopped operating, most of these towns became ghost towns literally overnight. The article starts off with a great fact (I'm assuming it's true since they used all capital letters for FACT):
FACT: There are more ghost towns in Nevada than towns occupied by the living. By that count, it would take you years, if not a lifetime, to explore all the ghost towns in the state.
Regardless of whether or not that's true there are a TON of ghost towns in Nevada and way too many to explore in a reasonable period of time. So Matador Network takes us through 6 of them with some cool photos and a little bit of text about each of these places.
To check out this article, click this
link
.
About the first picture above - it's from Rhyolite, NV and it shows a creepy art exhibit created by Belgian sculptor Albert Szukalski in the 1980s. Seeing this would certainly make me think twice about exploring this ghost town.
Ghost Town Under the Lake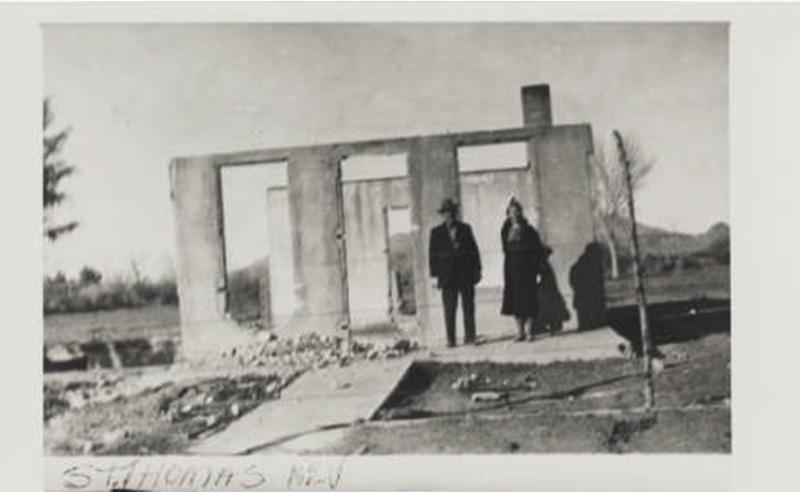 Credit: University of Nevada, Las Vegas University Libraries
Finally, another ghost town in Nevada, St. Thomas, has spent most of the last 70+ years under the waters of Lake Mead. Over the years the lake has dropped just enough to reveal the town. With the current extreme drought hitting the Southwest, this has happened once again. You can now tour this once thriving Mormon community by a new access trail built by the NPS. For more information, you can check out the National Park Service's page
here
.